My Favorite Annotated Yeast Gene:ERG25
ERG25 codes for a membrane bound protein called C-4 methyl sterol oxidase. This protein catalyzes the first of three steps required to remove two c-4 methyl groups from an intermediate in ergosterol biosynthesisóa form of lipid synthesis (Information from Swiss Prot). This 1440 base pair gene is located on chromosome VII and produces a protein of 209 amino acids.
http://db.yeastgenome.org/cgi-bin/SGD/locus.pl?locus=ERG25


FIGURE 1 - Below is a rough outline of ERG25ís location on chromosome VII. Image found at yeastgenome.org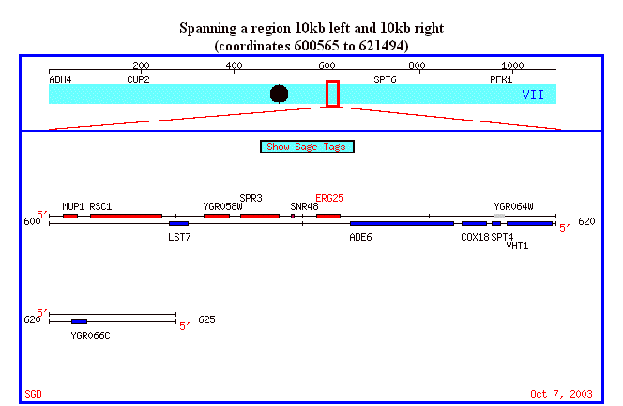 Molecular Function: ERG25, or yeast methyl sterol oxidase as its gene product is called, is involved in the catalysis of the oxidation of the 4-alpha methyl group of 4,4-dimethylzymosterol.Liangtao Li and Jerry Kaplan found in a study titled ìCharacterization of ERG25 and Identification of a Human Homologueî that ERG25 is essential in metabolizing lipids and that dysfunction of this gene in yeast results in fatty acid, triglyceride, and methyl sterol oxidase accumulation. The function was also shown to be essential for complete disruption of the gene resulted in nonviable yeast. (Li et al, 1996; http://www.jbc.org/cgi/content/full/271/28/16927) They found that the geneís function is tightly connected to iron levels. "This observation indicates that iron plays a catalytic rather than a regulatory role. What is surprising is that when the mutant is grown on low iron, there is an increase in transcript, whereas in the mutant grown on normal or high iron transcript is present at wild-type levels. Because the transcript is not regulated by iron, this result indicates that the transcript is increased as a result of the metabolic block" (Li et al., 1996)





Biological Function: This protein acts in the ergosterol biosynthesis pathway (thus where its name ERG comes from). Sterol biosynthesis in general involves the formation of sterols from simpler compounds.Sterols are steroids with one or more hydroxol groups and a hydrocarbon side chain (Info from Gene Ontology Browser.)According to yeastgenome.org ERG25 uses ergosterol to form (22E)-ergosta-5,7,22-trien-3beta-ol, a sterol compound found in yeast and mold.
FIGURE 2 - Below is a map of the different metabolic and biosynthetic pathways with the corresponding genes involved. The map shows the ergosterol biosynthesis in relation to other essential pathways.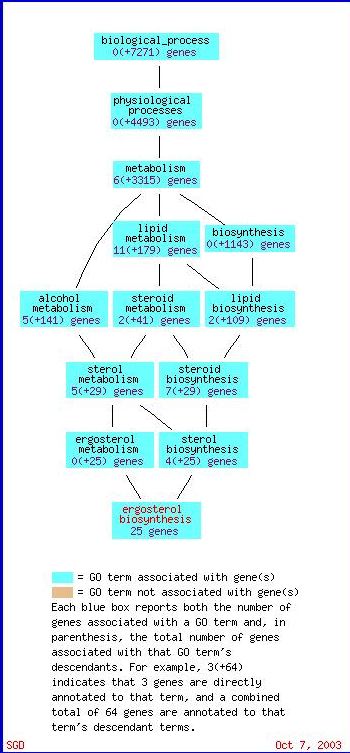 Cellular Component: The gene product for ERG25 is localized in the membrane of the endoplasmic reticulum and the plasma membrane.Swiss Prot shows four protein domains, one being a transmembrane region. Unfortunately no PDB image is available for this protein.

FIGURE 3 - This screenshot from Swis Prot reveals the different protein domains in the ERG25 protein.
-

Human Homologue: In the article ìCharacterization of ERG25 and Identification of a Human Homologueî the researchers found a human homologue to this gene.They cloned, sequenced, and mapped the ERG25 to human chromosome 4q32-34. They found that both ERG25 and the human homologue had similarities to the membrane proteins desaturases-hydroxlyases.

Gene Sequence:(NCBI Nucleotide Database)


TCTATATAATATATAATACAGGAGGATCTATTCTTTTTTTTCTTCTTCTCTTCTTCTCTCCCTTTTTTCT
CTCTCTTCGTTTCTTTCCTTCCAGTAAATCTTTATATTAGTTGTAACTTTTTCTCTTTAGATAGTAGCAT
AGAGGACTAAGGAAAAGTAGTACAGCCATAAAAAAAAGAGGAAAAGATGTCTGCCGTTTTCAACAACGCT
ACCCTTTCAGGTCTAGTCCAAGCAAGCACCTACTCACAAACTTTGCAAAATGTCGCCCATTACCAACCTC
AATTGAATTTCATGGAGAAATACTGGGCCGCATGGTACAGTTACATGAACAATGATGTTTTGGCCACCGG
TCTAATGTTCTTTTTATTGCATGAATTTATGTATTTCTTTAGATGTTTGCCATGGTTCATCATCGACCAA
ATTCCATACTTTAGAAGATGGAAGTTACAACCAACTAAGATTCCAAGTGCTAAGGAACAACTATACTGTT
TGAAATCCGTTCTTCTATCTCATTTCTTGGTCGAGGCCATCCCTATCTGGACCTTCCACCCAATGTGTGA
AAAATTAGGTATTACTGTCGAAGTTCCATTCCCATCTTTGAAAACAATGGCTCTAGAAATTGGTCTATTC
TTCGTCTTGGAAGATACATGGCATTACTGGGCTCACCGTCTATTCCACTACGGTGTCTTCTACAAGTACA
TTCACAAGCAACATCACAGATACGCTGCTCCATTCGGTCTTTCTGCTGAATATGCTCATCCTGCTGAAAC
TTTGTCTTTGGGTTTTGGTACCGTTGGTATGCCAATTCTTTACGTCATGTACACTGGTAAATTACACTTG
TTCACTCTATGTGTATGGATCACCCTAAGATTATTCCAAGCTGTTGACTCTCATTCTGGTTATGACTTCC
CATGGTCTTTGAACAAGATCATGCCATTCTGGGCTGGCGCTGAACACCACGATTTGCATCATCACTACTT
TATTGGTAACTACGCTTCCTCTTTCAGATGGTGGGATTACTGTCTAGACACTGAATCTGGTCCAGAAGCT
AAGGCCTCCAGAGAAGAAAGAATGAAGAAGAGAGCTGAAAACAATGCTCAAAAGAAGACTAACTAAGAGA
AGAAACATACTTCAAAAAAAAAAAAAAGAAAAACAACAAAAAAACGTATAAAATGAAATAAATTTCGAAC
CGCTTTTTTTCCTTTTTTTTTTTTTTACTTTGTTTGACCTCCCCTAACTCTTTCTTTTTACCTTCACAAT
TGTTTATTTTAATATATGATTTTTAAATTAATTCAGGTTAATTCTAAAAACTATATTGCAATCTTTTAAA
TATATGTATACACGTTCATTACCACGTATACATATCCATATATATATATATATATATACATACTATTTAT
GATAAATTTTTAACAAGCAAACCCATTATTAAATGCTATA
Amino Acid Sequence: (NCBI Protein Database)
MSAVFNNATLSGLVQASTYSQTLQNVAHYQPQLNFMEKYWAAWYSYMNNDVLATGLMFFLLHEFMYFFRC
LPWFIIDQIPYFRRWKLQPTKIPSAKEQLYCLKSVLLSHFLVEAIPIWTFHPMCEKLGITVEVPFPSLKT
MALEIGLFFVLEDTWHYWAHRLFHYGVFYKYIHKQHHRYAAPFGLSAEYAHPAETLSLGFGTVGMPILYV
MYTGKLHLFTLCVWITLRLFQAVDSHSGYDFPWSLNKIMPFWAGAEHHDLHHHYFIGNYASSFRWWDYCL
DTESGPEAKASREERMKKRAENNAQKKTN

FIGURE 4 - This figure from yeastgenome.org shows the different characteristics of the ERG25 protein.

---
Citations:
Swiss Prot Homepage
http://us.expasy.org/sprot/
yeastgenome.org
http://db.yeastgenome.org/
Gene Ontology Browser
http://db.yeastgenome.org/cgi-bin/SGD/GO/go.pl?goid=6696
NCBI Nucleotide/Protein Databases
http://www.ncbi.nlm.nih.gov/
L Liangtao and J Kaplan. Characterization of ERG25 and Identification of a Human Homologue. 1996. The American Society for Biochemistry and Molecular Biology. http://www.jbc.org/cgi/content/full/271/28/16927 <accessed 2003 Oct 7



CONTACT: altrzebucki@davidson.edu