My Favorite Yeast Genes: ADY2 and YCR007C
This web page was produced as an assignment for an undergraduate course at Davidson College.
ADY2, also known as AT01 and YCR010C, is an annotated gene of the YaaH family, and YCR007C is a gene that has yet to be annotated, both found on the Crick strand of chromosome III in the genome of the yeast Saccharomyces cerevisiae.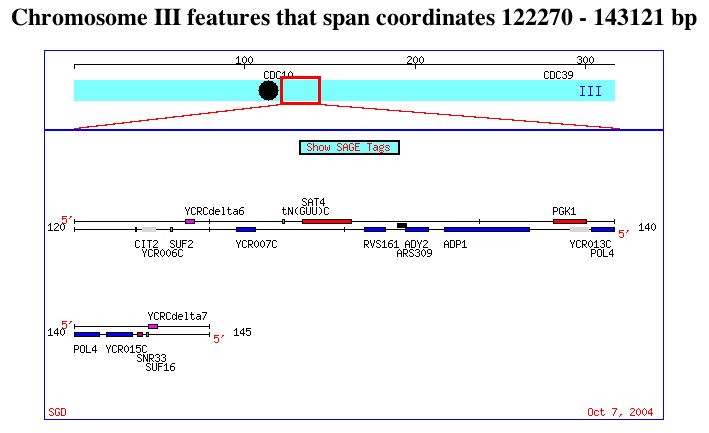 Fig 1.: Chromosomal location of ADY2 and YCR007C. (SGD, 2004; <source>)
ADY2
Entrez Gene ID: 850368
Molecular Function
ADY2 codes for the transmigrate Ady2p protein which directs the active transport of several macromolecules, small molecules, and ions across, between or within cells. The most important of these is the transport of acetate into the cell from the outside. (SGD, 2004; <source>) Asy2p activity is important in reducing the amount of sodium in regulating acetate levels inside cells. Acetate has an affinity for sodium, and it binds to it creating sodium acetate, which, in animals, can then be removed from the body through the kidneys. This gene is homologous to the Yarrowia lipolytica GPR1 gene, important in the sensitivity of acetic acid. (Paiva, et al 2001; source)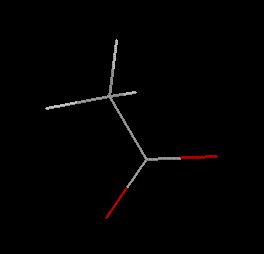 Fig. 2: Structure of acetate ion from Biochemical Info (2003; <source>)
Biological Process
This gene has several biological processes. First, it plays a major role in DNA metabolism, involved in the accumulation of DYads, and therefore important in meiosis. ADY2 is also involved in acetate transport. A third biological process that this gene contributes to is nitrogen utilization and ammonia production. Ammonia is important as a starvation signal between yeast colonies, as discussed by Palkova, et al. (2002, <source>)
Cellular Component
Ady2 is a transmembrane protein and is also found in the mitochondrion.
Mutant Alleles and Phenotypes
Null mutations in this locus result in viable yeast cells, but they have a defect in the production of ammonia. (SGD, 2003)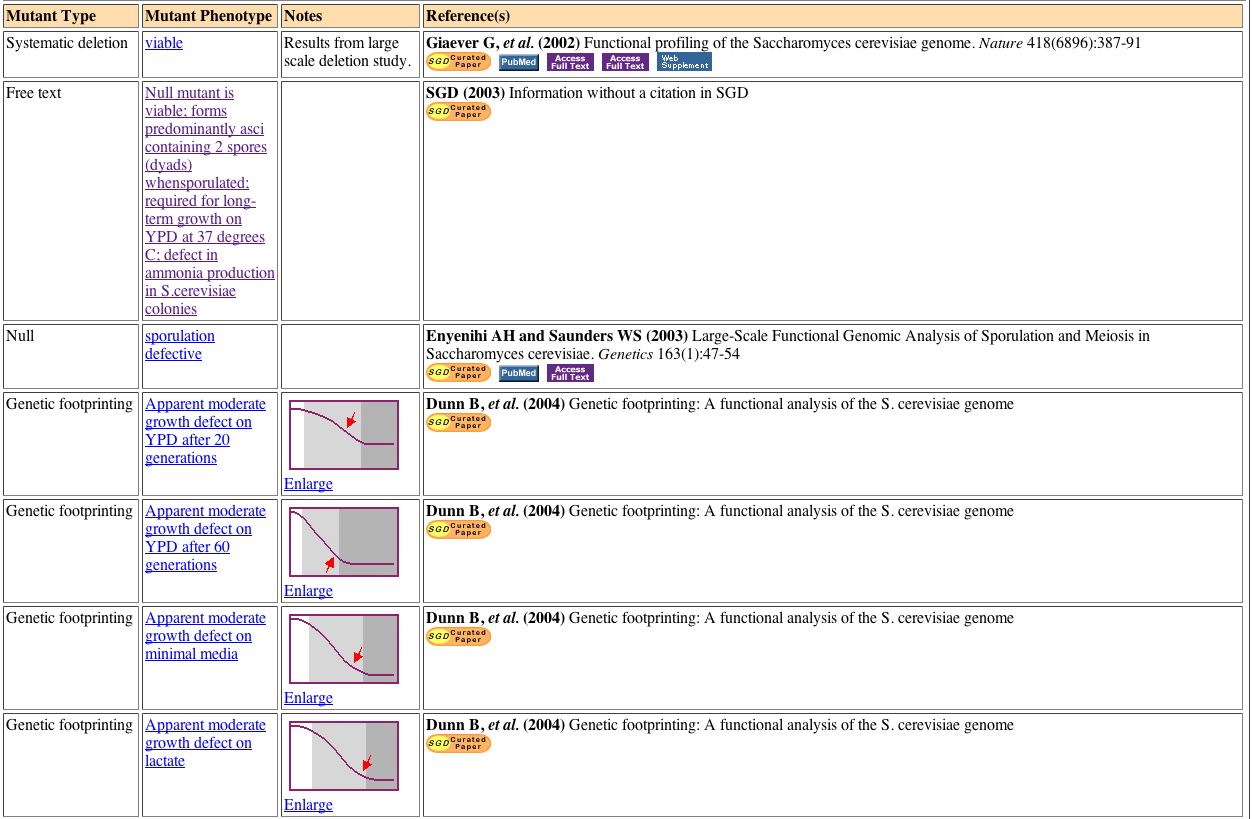 Fig 3: Mutation chart from SGD (source)
Gene Nucleotide Sequence
atgtctgacaaggaacaaacgagcggaaacacagatttggagaatgcaccagcaggatac
tatagttcccatgataacgacgttaatggcgttgcagaagatgaacgtccatctcatgat
tcgttgggcaagatttacactggaggtgataacaatgaatatatctatattgggcgtcaa
aagtttttgaagagcgacttataccaagcctttggtggtaccttgaatccagggttagct
cctgctccagtgcacaaatttgctaatcctgcgcccttaggtctttcagccttcgcgttg
acgacatttgtgctgtccatgttcaatgcgagagcgcaagggatcactgttcctaatgtt
gtcgtcggttgtgctatgttttatggtggtttggtgcaattgattgctggtatttgggag
atagctttggaaaatacttttggtggtaccgcattatgttcttacggtgggttttggttg
agtttcgctgcaatttacattccttggtttggtatcttggaagcttacgaagacaatgaa
tctgatttgaataatgctttaggattttatttgttggggtgggccatctttacgtttggt
ttaaccgtttgtaccatgaaatccactgttatgttctttttgttgttcttcttactagca
ttaactttcctactgttgtctattggtcactttgctaatagacttggtgtcacaagagct
ggtggtgtcctgggagttgttgttgctttcattgcttggtacaacgcatatgcaggtgtt
gctacaaagcagaattcatatgtactggctcgtccattcccattaccatctactgaaagg
gtaatcttttaa
A BLASTn search was performed on this sequence: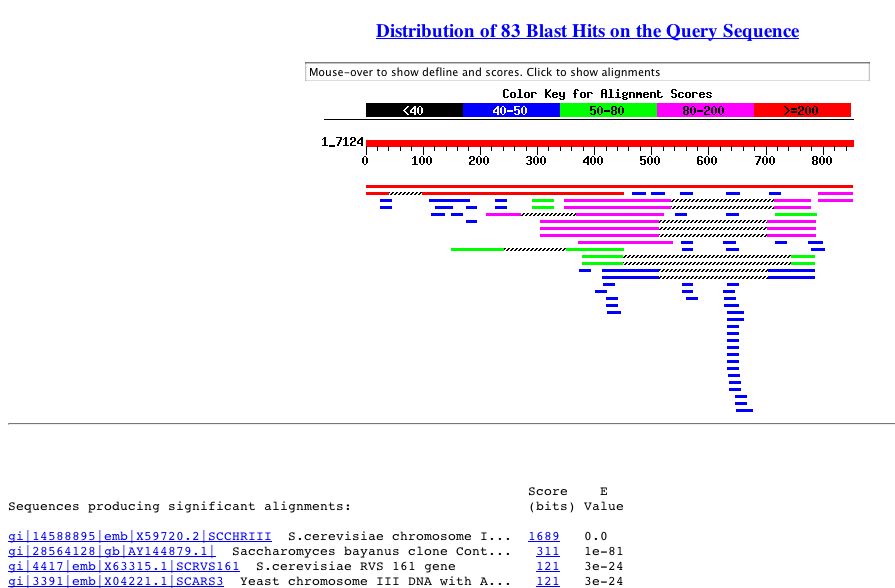 Fig. 4: Blastn results from NCBI (source)
The only sequences that produced significant alignments were within the yeast genome and contained the ADY2 gene, such as the hit shown above for the entire chromosome 3.
Amino Acid Sequence
MSDKEQTSGNTDLENAPAGYYSSHDNDVNGVAEDERPSHDSLGKIYTGGDNNEYIYIGRQ
KFLKSDLYQAFGGTLNPGLAPAPVHKFANPAPLGLSAFALTTFVLSMFNARAQGITVPNV
VVGCAMFYGGLVQLIAGIWEIALENTFGGTALCSYGGFWLSFAAIYIPWFGILEAYEDNE
SDLNNALGFYLLGWAIFTFGLTVCTMKSTVMFFLLFFLLALTFLLLSIGHFANRLGVTRA
GGVLGVVVAFIAWYNAYAGVATKQNSYVLARPFPLPSTERVIF
The Kyte Dolittle hydropathy plot with window set at 9 , predicts that there are transmembrane regions. (source)
Homologs
ADY2 has been found as a homolog on 4 other species, as can be seen below from the HomoloGene Database (source)

YCR007C
Entrez gene id 850364
Description
According to the SGD, YCR007C has no known biological processes, molecular function, or cellular component.
Mutant Alleles and Phenotypes
Mutants for this protein are viable, but show sensitivity when grown in certain mediums.

Fig. 5: Mutation chart from SGD. (source)
Gene Nucleotide Sequence
ATGCAGCCTCATTTAGACAACAACAGTAATAATGACGATGTCAAATTGGATACATTAGGG
GAACAAAATGTGTTATCATCCGCAGAAAATATCACTTTACCTGAAGACACCTTTAAATCA
TATATGACCTACTTGCTGTACGAGATGGCTCATTACAAACCGATGATATTTTCCTTCTTG
GCACTTTCAGTTTCAATTTTAATAGTTGTGATCTTTCATAATGTTAAAGCTTGTGATGTC
GTTTTTGGTTTTTCAATTTTCGTCACTTCTATTTTGTTTTTGTCTACGTTGATTCCGTTT
AATGTGTATATCTCGGATGAGGGTTTCAGAATTAAGCTTTTGCTGGAAGTTATCACCCAC
AGGCCAGCGGTAAAGGGAAAAGAATGGAGAGCAATCACAGACAATATGAATCAATATTTA
CTTGATAATGGTTTATGGAGTACTCGCTATTACTTTTATAGTAGTGAAAGATGCTACAAA
TTCTTCAGATTTCTTGTGAAAGAAAAACCCCCAGGTGTGAATGTAAATTCATCGGTAAAG
GACGCCACAAGTACGCAGATAGATGCACCAGCAAATGAGGCTTCAAATGAGGTAATAAAA
TGCTTTAGTTTCAGTTCTGACCCAATATTCGAAGCATACTTTGTTAAAGCAGTAGAAGTT
GAGAAACAAGCACAACAGGAATATTGGAGAAAGCAATATCCTGACGCCGATATACCATGA
A BLASTn search was done using this sequence: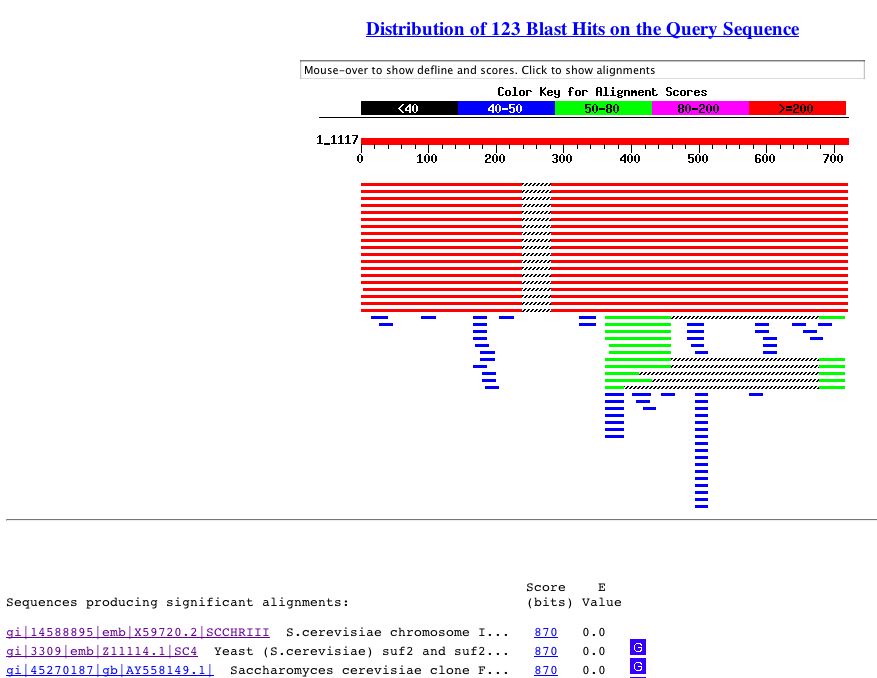 Fig. 6: BLASTn hits for YCR007C.
From the image above, we can see that the highest hits for this sequence are the entire chromosome 3, an unknown S. cerevisiae protein, and a clone of YCR007C.
Amino Acid Sequence
MQPHLDNNSNNDDVKLDTLGEQNVLSSAENITLPEDTFKSYMTYLLYEMAHYKPMIFSFL
ALSVSILIVVIFHNVKACDVVFGFSIFVTSILFLSTLIPFNVYISDEGFRIKLLLEVITH
RPAVKGKEWRAITDNMNQYLLDNGLWSTRYYFYSSERCYKFFRFLVKEKPPGVNVNSSVK
DATSTQIDAPANEASNEVIKCFSFSSDPIFEAYFVKAVEVEKQAQQEYWRKQYPDADIP*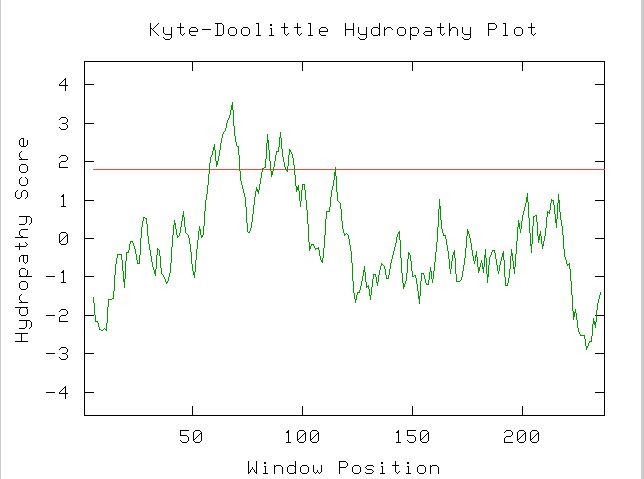 Fig. 7: Kyte Doolittle Hydropathy plot of YCR007Cp with window size 9.
The graph above shows the predictions of a Kyte Doolittle Hydropathy plot that this amino acid sequence codes for a protein with transmembrane regions.
Possible Roles of YCR007C
The YCR007C gene belongs to the DUP240 gene family in S. cerevisiae. All but three of the members of this family have yet to be described. YHL044W's cellular component has been described as being on the plasma membrane, and encoded on chromosome 8, but no further information is known about it. (NCBI Gene Id:856341, source)The two whose functions are known, MST27 and MST28, have very similar roles. Their biological function is protein binding, the process they accomplish is vesicle organization, and their cellular components are the golgi apparatus, the endoplasmic reticulum, and the plasma membrane. MST27 is located on chromosome 7, and MST28 is located on chromosome 1. (MST27 NCBI gene id:852830, source; MST28 NCBI gene id:851284, source) It would seem reasonable that YRC007C would have similar functions if it is classified in the same family, and is also a transmembrane protein, like YHL044W, which is supported by the Kyte Doolittle Hydropathy plot.
Davidson Genomics Course Webpage
Davidson College Biology Department
Sources
BLAST. <http://www.ncbi.nlm.nih.gov:80/BLAST/> Accessed 7 October 2004.
Kyte-Doolitle Hydropathy Plot. <http://occawlonline.pearsoned.com/bookbind/pubbooks/bc_mcampbell_genomics_1/medialib/activities/kd/kyte-doolittle.htm> Accessed 7 October 2004.
NCBI Database. <http://www.ncbi.nlm.nih.gov/> Accessed 7 October 2004.
Paiva, et al. Ady2p is essential for the acetate permease activity in the yeast Saccharomyces cerevisiae. Yeast. 2004 Feb. 21(3):201-10. <http://www.ncbi.nlm.nih.gov/entrez/query.fcgi?cmd=Retrieve&db=PubMed&list_uids=14968426&dopt=Abstract%00>
Palkova, et al. Ammonia Pulses and Metabolic Oscillations Guide Yeast Colony Development. Mol Biol Cell. 2002 November; 13 (11): 3901–3914. <http://www.pubmedcentral.nih.gov/articlerender.fcgi?tool=pubmed&pubmedid=12429834> Accessed 7 October 2004.
SGD. <http://www.yeastgenome.org/> Accessed 7 October 2004.