This web page was produced as an assignment for an undergraduate course at Davidson College.

MY FAVORITE YEAST GENES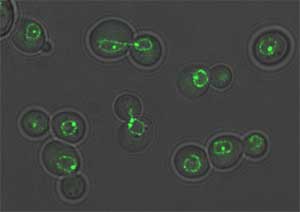 Figure 1. These budding yeast cells have been tagged using GFP (Green Fluorescent Protein) and are visualized using fluorescence microscopy (http://www.unige.ch/sciences/biologie/bimol/htmls/gasser-f.html). Permission requested from Susan Gasser.
---
Annotated Gene: FAR1
Unannotated Gene:YBR293W
FAR1 Relative Sites
References
---
Annotated Gene: FAR1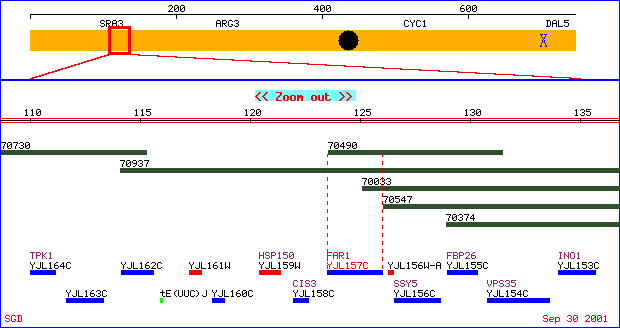 Figure 2. A physical map of FAR1 located on chromosome X. The yellow depicts chromosome X. The blue designates a Crick strand ORF and red a Watson strand ORF. ATCC clones are represented in green. Image taken from http://genome-www4.stanford.edu/cgi-bin/SGD/PHYSMAP/PHYSmap?seq=FAR1 Permission requested from SGD.

FAR1 is located in the genome of Saccharomyces cerevisiae commonly known as baker's or budding yeast (SGD, 2001; http://genome-www.stanford.edu/Saccharomyces/). This gene is situated on chromosome X and is called such because it is a "Factor ARrest" gene (YPD, 2001; http://www.proteome.com/databases/YPD/reports/FAR1.html).
FAR1 is a cyclin-dependent protein kinase inhibitor involved in cell-cycle arrest (SGD, 2001; http://genome-www4.stanford.edu/cgi-bin/SGD/locus.pl?locus=FAR1). This arrest in the G1 phase is important because it allows for cell-cycle synchronization between two haploid cells with opposite mating types. The cell-cycle arrest begins with the secretion of peptide pheromones a and alpha by haploid yeast cells. This secretion induces conjugation between cells of opposite mating types along with morphological changes within the cells when the pheromones bind to their receptors. This binding initiates a signal transduction pathway since the receptor is coupled with a heterotrimeric guanosine triphosphate-binding protein (G protein) in both haploid yeast cells. A mitogen-activated protein (MAP) kinase cascade is stimulated and Cdc28 protein kinase is inactivated (Leeuw et al. 1210). The cell cycle is halted since Cdc28p is essential for the G1 phase to end and the S phase to begin. Far1p inactivates the Cdc28 protein kinase of the Cdc28p-Clnp complex. The transcription of FAR1 is actually induced by the secreted mating pheromone (Peter and Herskowitz 1230). FAR1 may also play a role in the polarized orientation of growth during mating (Butty et al. 1511).
A FAR1 mutant has a viable phenotype. Two substitutions in FAR1 lead to the far1-D1 mutation--glycine 646 and proline 671 are replaced by aspartic acid and leucine, respectively (Figure 3). This null mutant can still induce the signal transduction pathway as in the wild-type, but is unable to halt the cell-cycle at the G1 phase when exposed to mating pheromone. Far1-D1 mutant exposure to mating pheromone can also lead to unusual cell morphology. However when these mutants are not affected by mating pheromone, they have normal cell growth, budding, size, and pheromone production. A second FAR1 mutant (far1-22p) results from the replacement of serine 87 with proline (Figure 3). This mutant can induce a G1 arrest in the absence of a mating pheromone by altering the phosphorylation by the Cdc28p-Cln2p kinase complex. There are six other null mutants including FAR1-22,nls1; FAR1-22deltaNES, far1-s, Far1-60F3p, farc1-c, and far1-H7 at the FAR1 locus (YPD, 2001; http://www.proteome.com/databases/YPD/reports/FAR1.html).

1 MKTPTRVSFE KKIHTPPSGD RDAERSPPKK FLRGLSGKVF
41 RKTPEFKKQQ MPTFGYIEES QFTPNLGLMM SKRGNIPKPL
81 NLSKPISPPP SLKKTAGSVA SGFSKTGQLS ALQSPVNITS
121 SNKYNIKATN LTTSLLRESI SDSTTMCDTL SDINLTVMDE
161 DYRIDGDSYY EEDSPTFMIS LERNIKKCNS QFSPKRYIGE
201 KCLICEESIS STFTGEKVVE STCSHTSHYN CYLMLFETLY
241 FQGKFPECKI CGEVSKPKDK DIVPEMVSKL LTGAGAHDDG
281 PSSNMQQQWI DLKTARSFTG EFPQFTPQEQ LIRTADISCD
321 GFRTPRLSNS NQFEAVSYLD SPFLNSPFVN KMATTDPFDL
361 SDDEKLDCDD EIDESAAEVW FSKTGGEHVM VSVKFQEMRT
401 SDDLGVLQDV NHVDHEELEE REKEWKKKID QYIETNVDKD
441 SEFGSLILFD KLMYSDDGEQ WVDNNLVILF SKFLVLFDFE
481 EMKILGKIPR DQFYQVIKFN EDVLLCSLKS TNIPEIYLRF
521 NENCEKWLLP KWKYCLENSS LETLPLSEIV STVKELSHVN
561 IIGALGAPPD VISAQSHDSR LPWKRLHSDT PLKLIVCLNL
601 SHADGELYRK RVLKSVHQIL DGLNTDDLLG IVVVGRDGSG
641 VVGPFGTFIG MINKNWDGWT TFLDNLEVVN PNVFRDEKQQ
681 YKVTLQTCER LASTSAYVDT DDHIATGYAK QILVLNGSDV
721 VDIEHDQKLK KAFDQLSYHW RYEISQRRMT PLNASIKQFL
761 EELHTKRYLD VTLRLPQATF EQVYLGDMAA GEQKTRLIM

801 EHPHSSLIEI EYFDLVKQQR IHQTLEVPNL
Figure 3. Wild-type amino acid sequence of Far1p. The far1-D1 mutation results from two substitutions, G646D and P671L. Glycine 646 and proline 671 are both blue. The far1p-22 mutation results from a substitution of serine 87 (red) to proline. Sequence taken from http://www.proteome.com/databases/YPD/reports/FAR1.html.

Relative Sites
Yeast Proteome Database Protein Report for FAR1- This site is a wealth of knowledge--it describes FAR1's function, pathway, mutant phenotype, genetic interactions, etc.
SGD- This site provides a summary of FAR1.
Annotated Yeast Gene: CDC28- A fellow student's web page describing CDC28, a cyclin-dependent kinase. This page describes the cell cycle and the role of cyclin-dependent kinases.

---
Unannotated Gene: YBR293W

The unannotated gene YBR293W is an ORF (open reading frame) since only physical properties are known.
It is located on the long arm of chromosome 2 in the genome of Saccharomyces cerevisiae.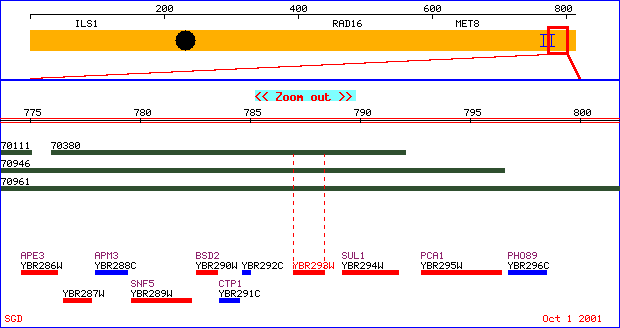 Figure 4. Physical map of chromosome 2 illustrating the unannotated gene, YBR293W.
SGD-Nucleotide Sequence
1 ATGAGTATTT CAAATTGGAT CACCACTGCG TATTTAATTA CATCAACATC
51 TTTTCAACCT CTTTATGGGT CATTTTCTGA TGCACTTGGT CGAAGAAACT
101 GCCTTTTCTT TGCTAATGGG GCTTTTACCA TTGGATGTCT AGCCTGTGGT
151 TTCTCGAAAA ACATCTACAT GCTTAGTTTT ATGAGAGCAT TGACAGGCAT
201 AGGAGGTGGT GGCTTGATCA CACTTTCTAC AATCGTAAAT TCAGACGTTA
251 TTCCAAGTTC GAAAAGAGGA ATTTTTCAAG CGTTTCAGAA TTTACTTTTG
301 GGATTTGGTG CCATATGTGG AGCGTCTTTC GGTGGCACAA TAGCGTCGAG
351 CATTGGTTGG AGGTGGTGTT TTCTCATCCA AGTACCCATA TCTGTGATTA
401 GTTCCATATT AATGAATTAT TATGTACCTA ATCAGAAAGA ATATAATCGT
451 CAAAATTCTA GCATATTCCA AAATCCCGGA AAAATACTCA GGGACATAGA
501 TGTTATGGGC TCAATTCTTA TTATAACTGG TCTCACACTA CAGCTTCTTT
551 ACCTGAGCCT GGGGTGTTCT ACTTCTAAAT TATCATGGAC CAGCCCTTCT
601 GTGCTACTGC TATTAGTTGG GAGTGTAATA ATCCTCTTAC TGTTCATATT
651 GCACGAAAGG AAAACAAGTG CTAGAGCGAT TATTCCTATG GAGCTGGTCA
701 ATTCCTCCTA CAGTGTCGTT GTACTTTCGA TAAGTATACT TGTTGGTTTT
751 GCCAGCTACG CGTATCTTTT TACTTTACCA TTATTCTTTC AGATTGTACT
801 TGGAGATTCC ACTGCAAAAG CAGGATTACG TCTTACGATT CCTTCCCTAT
851 TTACTCCGGT AGGCAGTCTC ATAACAGGAT TTTCCATGAG CAAGTACAAC
901 TGTCTAAGAT TATTACTCTA CATTGGTATT TCTTTGATGT TTTTGGGTAA
951 CTTTTTATTC CTGTTTATTG AAAAAACTTC TCCGAACTGG TTGATTGGTC
1001 TATTTTTGAT ACCTGCAAAT CTAGGACAAG GTATCACTTT TCCTACGACC
1051 TTGTTTACTT TCATATTTAT GTTCTCTAAG AGTGACCAAG CTACTGCGAC
1101 ATCAACTTTA TATTTATTCC GTAGTATTGG ATCTGTATGG GGTGTTGCAA
1151 TTTCAGCTGG CGTCATTCAA TTATCTTTCG CAGGTTTATT GCGTAGTAAT
1201 TTGAAAGGTC TACTGGATGA AAACAAGATA AAGAAACTTA TTGTTCAGCT
1251 TAGTGCAAAC TCCTCATATA TTGGATCTTT ACATGGCGAA GTTAAAAACA
1301 CAGTCATAAA GAGTTTTGAT GAGGCAACAA AGAGGGCTCA TCTAATGTCT
1351 ACATTACTCT CTTCATTGGC CCTGATACTC TGCATCCTTA AAGACAATCT
1401 GGCGAAACCT AAAACAAGAA GATAA
Nucleotide BLAST
species: Saccahromyces cervisiae
definition: chromosome II reading frame
locus: SCYBR293W
E=0.0, excellent match
nucleotide length: 4160 bp
accession number: Z36162 Y13134
gi: 536749
amino acid sequence: MSISNWITTAYLITSTSFQPLYGSFSDALGRRNCLFFANGAFTI
GCLACGFSKNIYMLSFMRALTGIGGGGLITLSTIVNSDVIPSSKRGIFQAFQNLLLGF
GAICGASFGGTIASSIGWRWCFLIQVPISVISSILMNYYVPNQKEYNRQNSSIFQNPG
KILRDIDVMGSILIITGLTLQLLYLSLGCSTSKLSWTSPSVLLLLVGSVIILLLFILH
ERKTSARAIIPMELVNSSYSVVVLSISILVGFASYAYLFTLPLFFQIVLGDSTAKAGL
RLTIPSLFTPVGSLITGFSMSKYNCLRLLLYIGISLMFLGNFLFLFIEKTSPNWLIGL
FLIPANLGQGITFPTTLFTFIFMFSKSDQATATSTLYLFRSIGSVWGVAISAGVIQLS
FAGLLRSNLKGLLDENKIKKLIVQLSANSSYIGSLHGEVKNTVIKSFDEATKRAHLMS
TLLSSLALILCILKDNLAKPKTRR
PREDATOR (predicts secondary structure of a protein)
51.05% random coil
26.16% alpha-helix
22.78% extended strand
The reliability plot did not indicate that this was a correct prediction since very little of it was above 0.8.
Kyte-Doolittle Analysis (predicts whether protein is an integral membrane protein)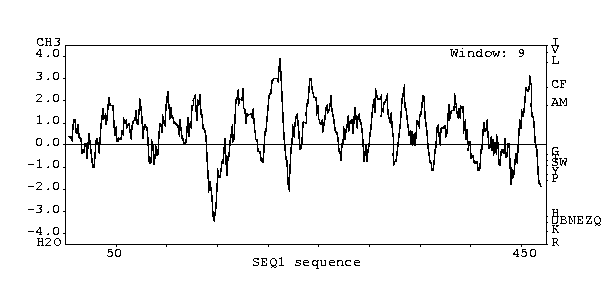 This ORF most likely codes for an integral membrane protein since the hydropathy plot peaks above 2.0.
Conserved Domain



There was only 30.4% alignment with a sugar transporter with an E-value of 1x10-4. This must not be a very highly conserved sequence.




YBR293W most likely codes for an integral membrane protein, but I could not ascertain the function of this gene. The only prediction I can make regarding the role of this gene in the life of yeast would be that it is involved in budding since genes that regulate budding are not highly conserved.
---

References
Butty AC, et al.1998. The Role of Far1p in linking the heterotrimeric G protein to polarity establishment proteins during yeast mating. Science 282:1511-1516.

Kyte J, Doolittle RF. 1982. J. Mol. Biol. 157:105-132.
Leeuw T, et al. 1995. Pheromone Response in Yeast: Association of Bem1p with Proteins of the MAP Kinase Cascade and Actin. Science 270:1210-1213.
Peter M, Herskowitz I. 1994. Direct Inhibition of the Yeast Cyclin-Dependent Kinase Cdc28-Cln by Far1. Science 265:1228-1231.
NCBI. BLASTn Results. http://www.ncbi.nlm.nih.gov/blast/Blast.cgi#536749 Accessed 2001 Sept 30.
NCBI. Conserved Domain Database. http://www.ncbi.nlm.nih.gov/Structure/cdd/wrpsb.cgi Accessed 2001 Sept 30.
PREDATOR. PREDATOR result for UNK_2789840. http://npsa-pbil.ibcp.fr/cgi-bin/npsa_automat.pl?page=/NPSA/npsa-predator.html Accessed 2001
Sept 30.
SGD. FAR1/YJL157C. http://genome-www4.stanford.edu/cgi-bin/SGD/locus.pl?locus=FAR1 Accessed 2001 Sept 28.
YPD. YPD Protein Report for FAR1. http://www.proteome.com/databases/YPD/reports/FAR1.html Accessed 2001 Sept 28.
---
Home
Genomics Course
Davidson College
Email me!