When do the details become too much?
---
In the photo below, you see a log cabin. But in reality, this photo is made of many small squares, called pixels.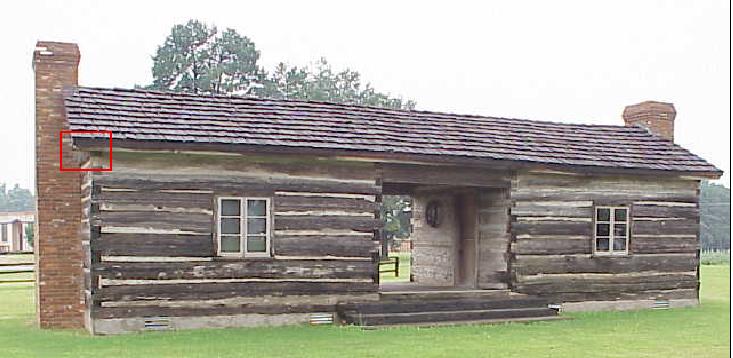 If we zoom in on the red box near the chimney, we see that what looks like a smooth and comprehensible image is really just a bunch of pixels.
---
Microarray data can be both a smooth comprehensive image, or just a bunch of dots. George Seurat was a master of pointillism over 100 years ago, but Chuck Close is a more modern master of pointillism. Below are some links that let you explore how sometimes we see smooth comprehenisble images, and other times just a bunch of dots, or swirls, or even fingerprints!
On some of the images, you will have an opportunity to zoom in. Do it!
Keith in Different Media
http://www.mcachicago.org/MCA/exhibit/past/Close/popups/10pop.html
http://www.mcachicago.org/MCA/exhibit/past/Close/popups/11pop.html
http://www.mcachicago.org/MCA/exhibit/past/Close/popups/12pop.html
http://www.mcachicago.org/MCA/exhibit/past/Close/popups/3pop.html
---
---
© Copyright 2006 Department of Biology, Davidson College, Davidson, NC 28035
Send comments, questions, and suggestions to: macampbell@davidson.edu