Salamanders
When most people think of salamanders, they think of small animals that are predominantly terrestrial. However, in order to reproduce, most salamanders must return to the water. Other salamanders such as those belonging the families Cryptobrachidae, Proteidae, Amphiumidae, and Sirenidae maintain an obligate paedomorphic lifestyle and never leave the water at all. A paedomorphic salamander is one that achieves sexual maturity while maintaining larval characteristics such as a tail fin and gills. By maintaining an aquatic lifestyle, salamanders belonging to these families are able to attain great lengths. In fact, the greater siren (Siren lacertina) and the two-toed amphiuma (Amphinuma means) are both capable of attaining lengths of up to 1 meter.

Another impressive fact about salamanders concerns their life spans. Although one would not expect salamanders to survive for a long period of time, many salamanders can live for up to ten years. Perhaps the longest life span of any salamander is that of the hellbender, which can live for anywhere between 25-30 years. With characteristics such as those described above, it is no wonder that in some forest habitats salamanders make up the largest constituent of the biomass.

A little known fact about salamanders is that members belonging to the family Plethodontidae, which is the largest family of salamanders, are completely lungless. This is an amazing trait considering the fact that Plethodontid salamanders are almost wholly terrestrial. Instead of using lungs for gas exchange, Plethodontid salamanders respire across their skin. In order for this strategy to be successful, these salamanders must remain in moist and humid microhabitats.





Greater Siren (Siren lacertina)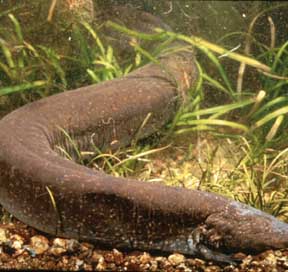 Photo Credit: JLM Visuals

Blue-Ridge Two-Lined Salamander (Eurycea wilderae)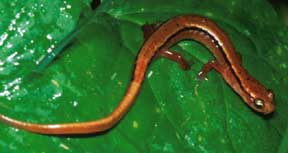 Photo Credit: S.G. Tilley