Yeast Knockouts - Barcode Approach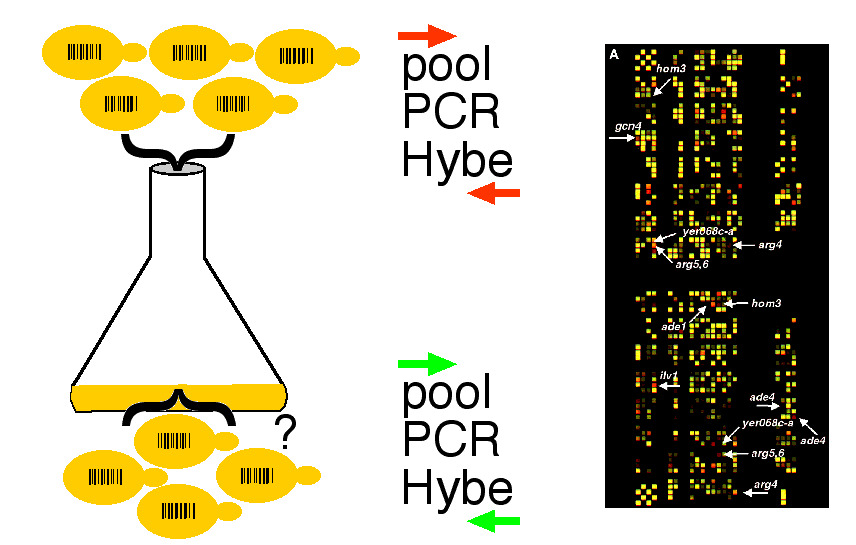 ---
Delete each gene one at a time and leave a barcode tag (20mer UPTAG and 20mer DOWNTAG) that creates a unique code for each deletion strain.
Every gene to be targeted, though some are essential.
Ron Davis et al., (Stanford) created 2026 heterozygous diploid deletion strains.
1620 haploid strains viable.
Experiment:
Mix 500 barcoded mutants into one flask and grow under some environmental pressure (carbon source, temperature, pH, inhibitory drugs, etc.) and let the cells grow.
Those that lack drug target gene or contain a necessary gene will grow.
Those that retained drug target or lack necessary gene will not grow as fast.
Aliquots removed over time.
Barcodes amplified en masse by PCR and hybridized with microarray.
Monitor loss of barcoded mutants over time.
Determine essential genes under selective pressures, drug targets, etc.
---
Mircoarray Data -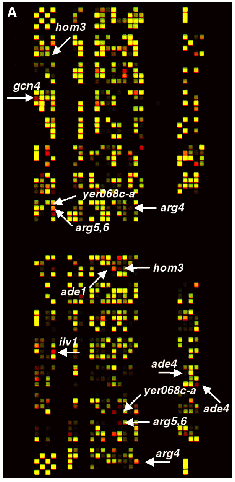 Red label = strains grown for 0 hours
Green label = strains grown for 6 hours
Red spots indicate stains that did not compete well against others.
---
Graphical Data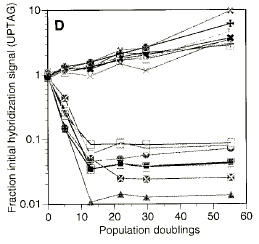 Significant Conclusions for GCAT:
Discover function of unknown ORFs
Discover unsuspected functions for known ORFs
Discover drug targets (direct and indirect)
15,300 strains available for further study.
Uncertain correlation between gene expression microarray data and selection data.
Many strains and an infinite number of environmental conditions.
Caveats
Cells contain selectable marker neomycin resistance.
Composition of pooled mutants may be important (secreted complementation).
---
---
© Copyright 2001 Department of Biology, Davidson College, Davidson, NC 28036
Send comments, questions, and suggestions to: macampbell@davidson.edu