Yeast Knockouts - mTn Approach
Michael Snyder et al. (Yale)

---
Random insertional mutagenesis into yeast gDNA library.

Key mTn features:
Met- lacZ - creates fusion protein that can be detected with Xgal (no IPTG)
URA3 - selection in yeast for presence of mTn
tet - selection in E. coli for plasmid
two lox sites - allows for Cre-mediated deletion of insertion
3xHA - three copies of the haemagglutinin epitope tag to which a monoclonal antibody binds, used to follow your favorite protein after Cre-lox excision.
What's Available?
11,232 stains created
6,358 strains verified by sequence
5,442 in or very near annotated ORFs
1,917 ORFs affected
1,826 strains have high ß-gal expression as fusion proteins
328 non-annotated ORFs (NORFs) discovered (due to small size or overlapping larger ORFs)
Different Levels of Analysis
1) Macroarrays
Wild-type Expression Patterns "enhancer trap-like" (ß-gal)
Specific Growth Conditions:
| | |
| --- | --- |
| Oxidative Phosphorylation | Cell Wall Synthesis |
| ade2 and red pigment formation | lysis and release alkaline phosphatase |
| | |
| Red/White | Blue/White |
---
2) Microarrays
---
3) Proteomics
epitope tag protein detection

---
4) "Phenomics"
Dissection of individual genes since more than one insertion per ORF
(e.g. IMP2' transcription factor with 11 different insertion sites)
Growth of individual stains on selective media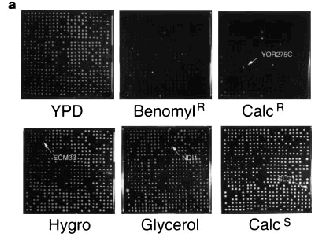 ---
5) Clustering of Phenomics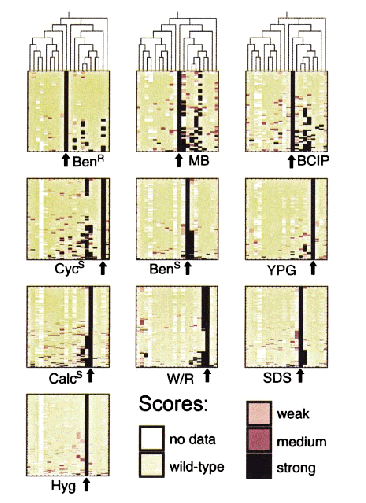 ---
Significant Conclusions for GCAT:
Discover NORFs.
Discover function of unknown ORFs.
Discover unsuspected functions for known ORFs.
Discover drug targets (direct and indirect).
11,232 strains available for further study.
Little correlation between gene expression microarray data and selection data.
Many strains and an infinite number of environmental conditions.
Domain mapping with multiple insertions.
ß-gal fusion provides gene activation method.
ade2 oxphos detection.
Macroarray phenomics (96 well or on solid media).
Proteomics with HA epitope tagging.
Web-based TRIPLES database for 7800+ mutant strains and online ordering form for strains
(Transposon-Insertion Phenotypes, Localization and Expression in Saccharomyces)
Caveats
Not every ORF hit due to "random" mTn insertion.
---
---
© Copyright 2000 Department of Biology, Davidson College, Davidson, NC 28036
Send comments, questions, and suggestions to: macampbell@davidson.edu