2004 ASCB
Education Workshop
---
Introduction to Protein Structure
Protein Data Bank
http://www.rcsb.org/pdb/
Aquaporin 1J4N
1. Rebecca Roberts (bio) -> Protein Explorer
Ursinus College
Top
---
Segue to Microarrays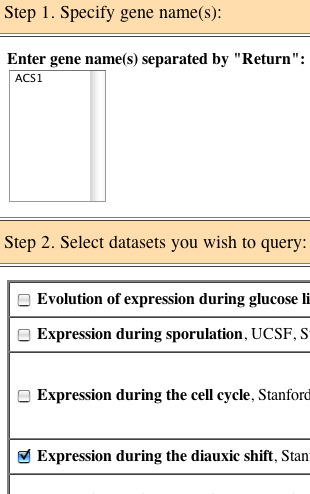 ACS1
2. Susan Dombrowski -> GEO database
NCBI Staff
Top
---
Segue to OMIM

Fava bean
3. Casonya Johnson (bio) -> WormBase and OMIM
Morgan State University
---
10 minute break
---
Segue to SNPs
Search 19265 and click on Search button.
Click on "TSC0019265 (a/c)"
Click on View Screening Details
Choose a link (I did first one)

Have it show you the trace.
Go to base 530 in the trace window (requires Java).
Show confidence.
Do you think this is a real SNP?
Click on ss2669205 (near the top) What is the frequency of this SNP?
Click on : rs1806509 at the top of the ss2669205 report. Where does this "SNP" occur?
4. Medha Bhagwat -> SNP databases
NCBI staff
---
Segue to perl scripts
Copy and Paste Sequence then close.
Find: ".pl"
5. Matt DeJongh (CS) -> perl programs
Hope College
---
Segue to Gene Ontology (GO)
Copy and Paste these 9 genes:
ELM1
SRC1
FKH1
YBL009W
STU2
SGO1
CIN8
CDC28
STB1
6. Libby Shoop (CS) -> Gene Ontology GUI
Macalester College